BPW Ottawa meetings are open to both members and guests. Guests are welcome to attend up to two meetings before committing to membership. We seek to develop the professional, business and leadership potential of women through education, awareness, advocacy and mentoring within a supportive network. Membership ( Click here for more info ) provides great value as it opens you to a local network of business and professional women as well as connections with advocacy and education on the provincial, national and international level.
Linda Hill – President
Kaylie Chow – Vice-President
Stephanie Wilde – Secretary
Joan Desautels – Treasurer
Katie Hanson – Programming
Hilary Allaire – Communication
We hold Thursday dinner meetings once a month from September to June at the Clocktower Brew Pub in the Glebe (just south of the Queensway).
Come and join us!

Clocktower Brew Pub Glebe
575 Bank St
(613) 233-7849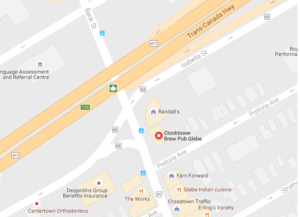 (click image to enlarge)
Those travelling on the Queensway from the west by car would take the Bronson St exit south, two minutes east to Chamberlain Ave and Bank St.
Those travelling on the Queensway from the east by car would take the Catherine St exit south, to 575 Bank St.
If travelling by bus, check the OC Transpo Travel Planner by clicking HERE
Upcoming 2017-2018 Meetings
Meetings begin at 6 p.m. with a social time that includes dinner (ordered and paid for by individual members and guests). The after-dinner programs vary between guest speakers, interactive workshops and moderated discussions on topics of interest to working women. Prepare to be engaged, challenged and inspired!
A provincial conference is held every other year (2016, 2018 etc) and a national convention is held every year.
Visit our Provincial Site and our National Site for more information.